What is Axe Throwing
Axe throwing is an exciting new sport in which the competitor throws an axe at a target, attempting to hit the bullseye as near as possible. Great for family fun or friendly competition.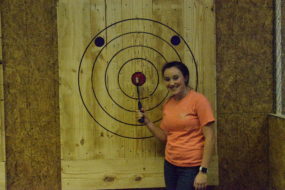 Axe Throwing Prices
Stick It, Axe Throwing provides everything you need for a safe and exciting experience. A friendly Axe Coach will teach you the proper Axe throwing techniques, Organize fun games and may even teach you some trick shots.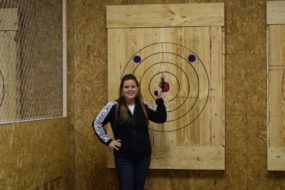 Shared Lanes
Shared Lane throwing is available for online reservations. With a public reservation, your group will have a guaranteed time slot while throwing and competing with other groups.
$22 Per Person if booked online.
Walk-Ins are welcome based on availability.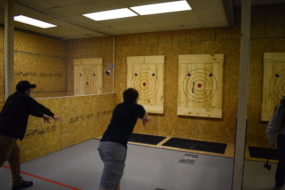 Facility Rental
Looking for a private event for your group? Facility Rental includes 4 Target lanes, Axe Coaches and more.
$500/hour, 2 hour minimum.
Call for Details.